The FP ClickStab® System meets all governmental requirements for safe operation over open sea.
No personnel over open sea is required.
The system connects the kill & choke, conduit and boost hoses between the rig and the riser telescopic joint allowing for a significant improvement in optimizing this operation.
It can be delivered to fit 49 1/2″ to 75 1/2″ rotary tables, and can be installed on the rig structure itself or on a moving trolley, e.g. the BOP trolley.
The FP ClickStab® can be fixed to the rig's current or new structure, or to a moving trolley. Future Production will adapt the system to any rig layout (see also examples below).
Several systems have been delivered, and the system has successfully been in operation since 2011, with excellent operational feedback.
Operational Benefits and Main Features
Future Production's FP Click-Stab® System reduces the NPT by connecting the Kill, Choke, Boost and Conduit lines in minutes.
5 systems (including 10 slipjoint bodies) to 5 rigs are delivered and in operation. The first system has been onboard Scarabeo 9 for almost 7 years.
It is the only proven handsfree system available in the market today, and it significantly improves HSE aspects by eliminating manual work over open sea.
The system connects all your BOP hoses in a matter of minutes and significantly reduces NPT.
Operation of the stabbing arms is by direct hand levers. (Radio Control as an Option)
The stabbing arms are designed for easy connections and disconnections, without any need for manual operation or intervention over open sea. Significant HSE improvement.
The FP Click-Stab® System is robust and very maintenance friendly. All maintenance points are easily accessible.
The system has no electrical or hydraulic components on the telescopic joint.
The system has proven very high uptime and requiring minimal maintenance.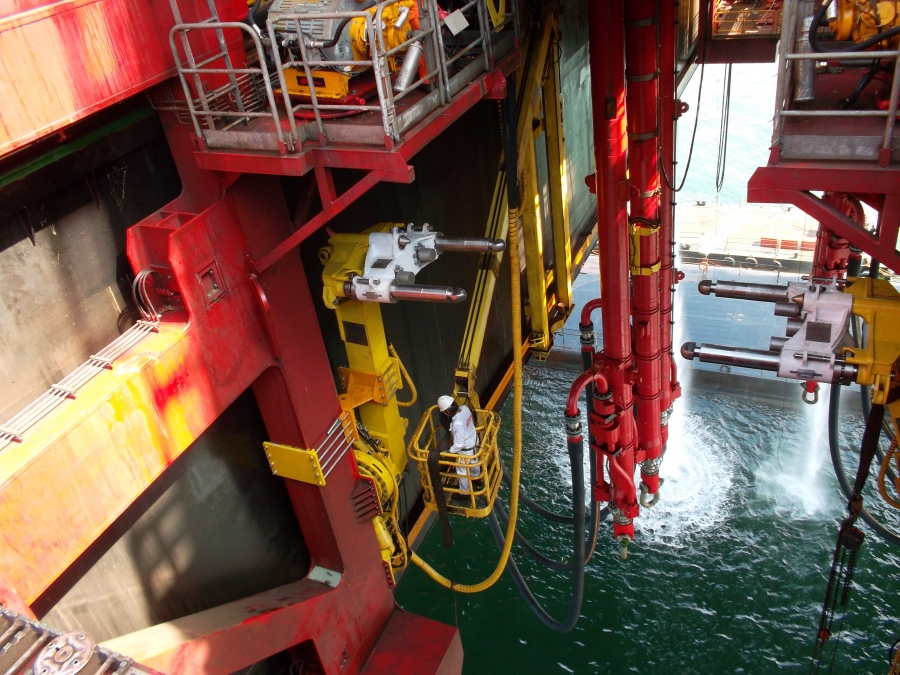 Handling arms installed on BOP trolley
System integrated in the (retractable) underhull guides